Digital Dental Scanner (3Shape Trios)
Patricia J. Drilling, DDS is pleased to offer a state-of-the-art digital dental scanner which eliminates the need for dental impressions, called 3Shape Trios. The 3Shape Trios is an advanced dental technology solution features wireless technology which can be used for multiple purposes to assist Dr. Drilling. Learn more below, or schedule an appointment online.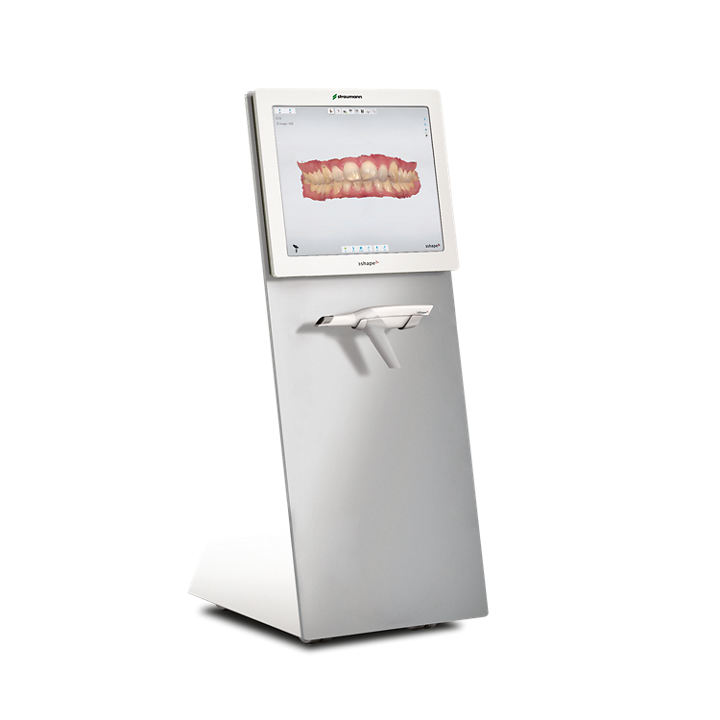 This equipment also allows us to take high definition photos as they scan and create color digital impressions. These HD photos are extraordinarily detailed. This equipment makes it easier to involve you in your treatment decisions as we can show you dental issues that were in the past very difficult to share with you.
How does the digital dental scanner work?
With a digital dental scanner, our Dr. Drilling is able to quickly and accurately take digital dental scans chair-side using a small, handheld intraoral device. Resulting scans include a full mouth scan with the palate and bite, allowing for easy views. The computer scan by a wand-like instrument is an ideal, convenient option, compared to the traditional method of impressions using putty, which can be uncomfortable and often causes patients to gag.
Once a patient's mouth has been scanned, the resulting digital scans can seamlessly be sent to a laboratory to fabricate necessary dental devices. The scans and digital technology can also be used to make accurate measurements including teeth width, arch width, canine distance and overbite/overjet measurements.
Benefits of the 3Shape Trios Scanner
When you choose a dentist that uses a 3Shape Trios Intraoral Scanner, you can rest assured your appointment will be quicker and free of any type of discomfort. Instead of waiting 15 minutes or longer for impressions to be completed, impressions with the scanner take about 5 minutes.>
Accurate Digital Images
Most importantly, the 3Shape Trios Intraoral Scanner captures accurate images immediately to confirm dental work is properly fitted. According to the manufacturer, 18 different independent studies has demonstrated that the 3Shape Trios Intraoral Scanner has a higher level of accuracy than traditional impressions. Teeth are digitally measured and recreated to eliminate the need for remakes. All impressions are transmitted in high-definition to produce crystal-clear images. Colors look natural and help better with shade matching to natural teeth. Your dentist will give you a look at all of these images to provide you with a better understanding of his or her treatment plans. With this option, you'll find improved communication between you and your dental provider. Not only will the dentist explain treatment plans, but can also help you visualize through the digital images generated by the 3Shape Trios Intraoral Scanner.
Artificial Intelligence
Since its release, the scanner has continuously improved to provide even higher accuracy. The latest technology utilizes artificial intelligence to remove soft tissue that can be blocking digital impressions. Dental providers are also able to record individual patient movements to highlight different contact points on the teeth.
Digital Record Storage
All records are saved digitally when using the 3Shape Trios Scanner. This is highly convenient for fast and easy sharing between dental providers. Also, the digital files are perfect to limit storage space. Providers are required to keep records for a minimum of 10 years. Digital scans can be uploaded to the cloud and kept on file indefinitely.
Innovative Software
Software included with the 3Shape Trios Scanner is an integral part of preventative dental care. With each scan uploaded into the database, Dr. Drilling can easily track changes in the patient's teeth and gums between visits.
Learn More About 3Shape Trios and Digital Dental Scans in Tulare, CA
To learn more about this amazing technology and our cutting-edge digital dental scanner, call our office at (559) 686-5184 or request an appointment with Patricia J. Drilling, DDS.